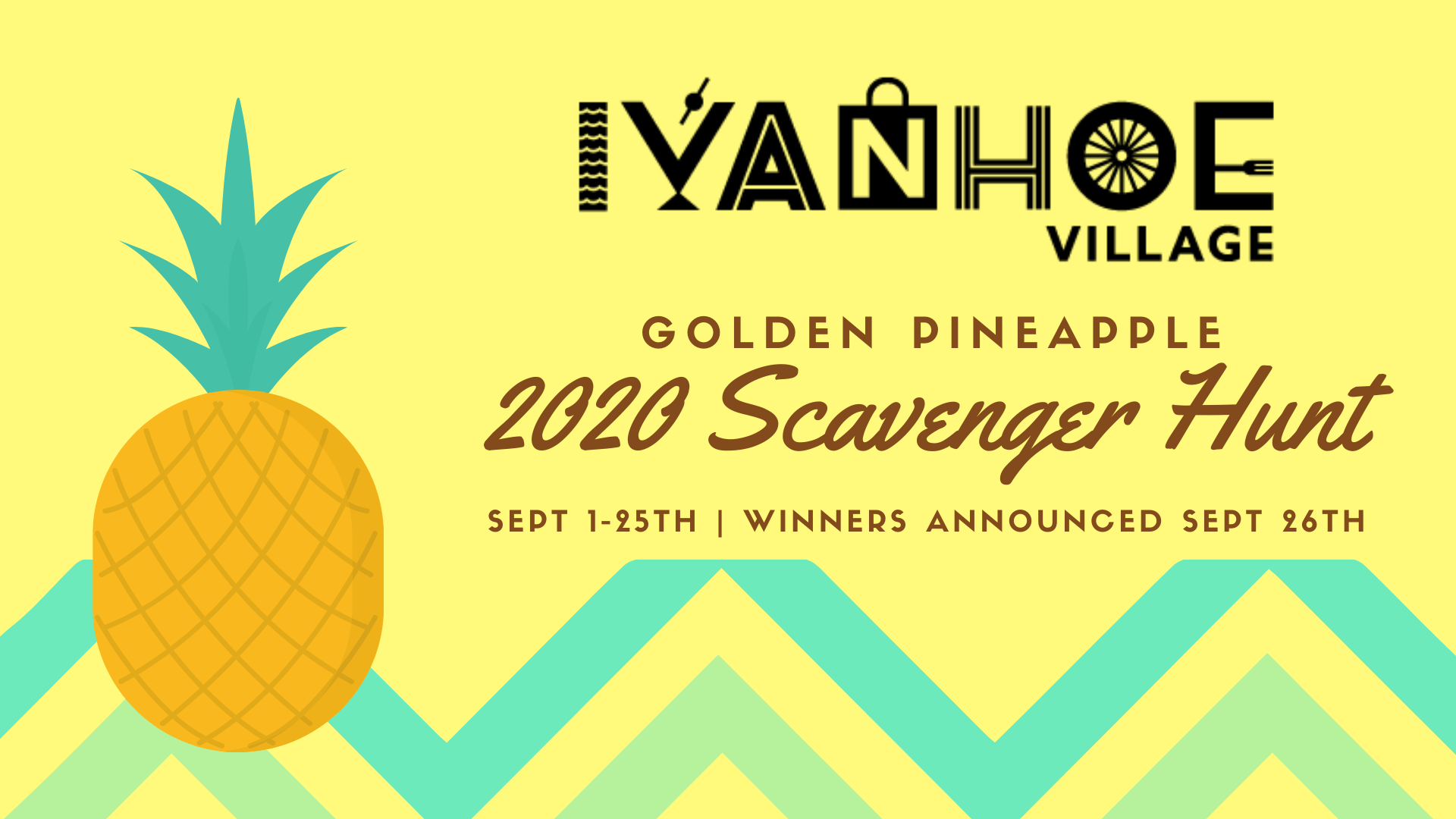 Join Ivanhoe Village in the first scavenger hunt!
Dates: September 1, 2020 through September 25, 2020 at 5PM
Locate Golden Pineapples at each location listed below, snap a photo and tag Ivanhoe Village on Facebook and/or Instagram.
Each location is a submission to a drawing for prize baskets happening at Virginia Drive Live! on September 26, 2020.
Rules:
1. Take a photo of the golden pineapple at each location on the list.
2. Post the photo and location on Facebook and tag Ivanhoe Village AND/OR on Instagram and tag Ivanhoe Village.
3. The more pineapples you find the more chances to win.
4. Some locations may only be by appointment only, their pineapples will be located in their windows.
5. All photos must be posted by September 25, at 5pm.
Prizes: Six (6) customized prize baskets filled with items and gift cards representing Ivanhoe Village businesses and partners, worth around $125-$150 each!
Participating locations:
All Fit Bootcamp
Autumn and Ro.
Awaken Integrative Health
Echoes of Retro
Factur
GB's Bottle Shop
The Hammered Lamb
Ivanhoe Park Brewing
Lee James Floral
Luna Mosaic
Maffrey's
Miscellaneous Market
Mosaic Hair Studio
Paper Goat Post
Retro City Cycles
Sanctuary Hair Refuge
Santiago's Bodega
Ski World
The Barefoot Spa
The East Tattoo
Tim's Wine Market
Yay! Tiny Shop
Oxford Eyes
Boutiq Medical