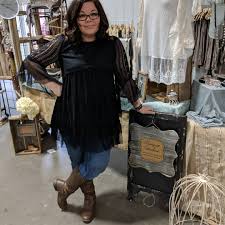 Cherrah' Johnson, owner of Beaux StudiosBy: Jacqui Cantu
Beaux Studios, that once was a quaint studio filled with curated Boho Clothing and hand crafted jewelry, in the district of Ivanhoe Village, is now on the move. As a great business incubator, Ivanhoe Village has helped the artist, Cherrah' Johnson, expand her business in multiple directions. She has found her niche and travels the country to several vintage markets and fine arts festivals, as channels for selling, and to find new products to add to her collection. Her items can also be found at various Adjectives Markets in the Central Orlando area and on her website.
Cherrah' began her venture into jewelry design, organically, in 1999. She uses unique combinations of semi-precious stones, leather, pearls, and "precious findings" to create her jewelry, which can be beautifully paired with her curated timeless feminine clothing. You will still see her in the Ivanhoe district collaborating with other makers. If you are one of her clients who returns for the seasonal changes, or a new customer, you may find her creative merchandise at Adjectives Markets in Winter Park, Altamonte Springs, and Winter Garden. You may also set up an appointment online at art@beauxstudios.com.